Solid surface material should be used on the places where glass is going to be fixed especially horizontally. We offer wide range of colors for the solid surfaces like Stone, Co-rian, Marble and Silestone. Intersection of glass planes with a wall at 90 degree angle is recommended especially for the neo angle built at 135 degree walls. For the typical 45" width curb, we suggest minimum tilt of 1/8" to a maximum of ¼" towards the shower drain. Similarly, shower seats and benches should be tilted slightly for the removal of the water easily though the drain.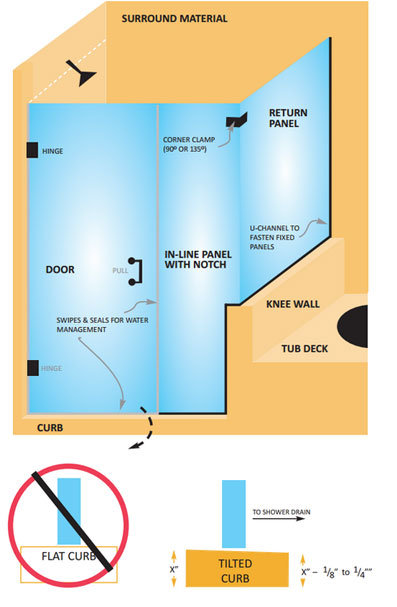 Do's
&

Don'ts
Do select the horizontal surfaces of curbs, knee walls and smooth surface material to eliminate grout lines where water can collect.
Do select a door width of at least 28" and not more than 36"
Do build the walls at 90 degrees to the surface of glass
Do go for a glass panel with 4" minimum width and 36" maximum width
Don't go for the relief accent tiles closer to the glass plane
Designing Glass, Hardware, Finishes, Ease of Use
We suggest using tempered 3/8" glass for a general glass enclosure but for the taller enclosures, we recommend ½" thick glass. People prefer various kinds of textured glasses like transparent, almost invisible glass to geometric and organic patterns of neutral designs to give an appealing look to their bathrooms. Sandblasted designs are also a good option for your privacy. Selection of hardware is as important as the selection of the glass for your enclosures. Hardware accessories like hinges, pulls, clamps and towel bars are available in many industrial, Victorian and transitional styles. Shower hardware includes standard plumbing finishes and new customized finishes. Custom-match finishes must be chosen by keeping an eye on lead time and up charge. We recently introduced glass towel hook for your convenience as they are easily reachable e. By using the visual lights and airy glass shelves, you can gain more space inner and outer of your showers.